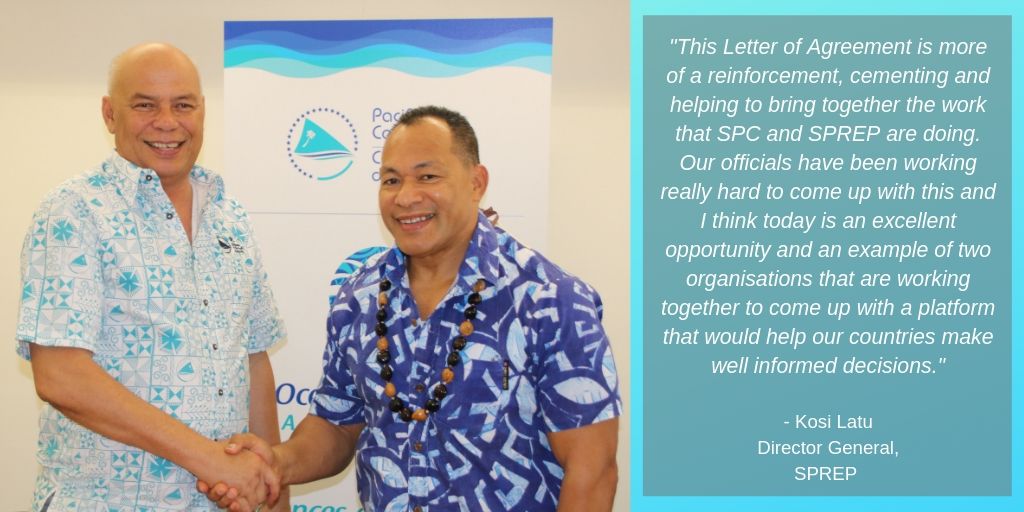 The Secretariat of the Pacific Regional Environment Programme (SPREP) and the Pacific Community (SPC) are demonstrating leadership and the true spirit of collaboration by entering into a partnership that will benefit Pacific island countries through two online data tools, the Pacific Environment Portal (PEP) and the Pacific Data Hub (PDH).
The agreement was officially signed by SPREP Director General, Mr Kosi Latu, and SPC Director General, Dr Colin Tukuitonga, in Noumea recently.
The partnership highlights leadership in data management and sharing and strengthens the sustainability of Pacific information. It also promotes the use of open data, to ensure that public data is available, accessible and reusable.
The partnership aims to maximise the limited resources available to the Pacific by development partners, by building complementary systems and avoiding duplicate investments. It also allows the two organisations to leverage each other's lessons and investments for the greater good of the Pacific.
The collaboration ensures that public data and knowledge products will be openly harvested between the PEP, the PDH, and the Pacific island countries' national data portals.
"SPC and SPREP are both knowledge organisations, we collect and store a lot of data. SPC, in particular, has a long history of data collection. We are pleased to have SPREP partner with us on this initiative, to make the data that we have more readily available and easily accessible. We believe this will be a valuable service to the region," said Dr. Colin Tukuitoga, SPC Director-General.
The PEP and the national data portals are being developed by SPREP with support from the Global Environment Fund and UN Environment under the Inform Project.
The project focuses on establishing a network of national data portals, with the PEP as the collation point for all public data. It also sets out to improve the monitoring, evaluation and analysis of environmental conditions to support environmental planning, forecasting and reporting requirements.
SPREP Director-General, Mr Kosi Latu, said, "SPREP and SPC have partnered to support and enhance access to national data and resources by Pacific island countries environmental monitoring and informed decision making are two of the key goals of this partnership. Pacific countries will see fast results from this partnership through improved discoverability of country relevant datasets and resources and enhanced national data portals."
The Pacific Data Hub is a regional data and knowledge platform being developed by SPC that serves as a central access point for data and knowledge products about the Pacific.It aims to improve access to Pacific data and knowledge products, regional data management practices, and support evidence-based policy making.
Part of the activities of the SPC-SPREP partnership agreement includes developing shared guidance and messaging on the use of the two data platforms, as well as developing a shared roadmap for the PDH, PDH thematic portals, PEP and national environment portals.
Shared data processing will also be developed and work towards a shared resource mobilisation strategy will be undertaken as part of the agreement.
For more information, please contact SPREP's Director of Environmental Monitoring and Governance, Ms Easter Galuvao at [email protected], or Mr Paul Anderson at [email protected].
For more information on the Pacific Environment Portal, please visit the website: https://pacific-data.sprep.org
For more information on the Pacific Data Hub, please visit the website: https://pacificdata.org